The Hellride squad took the van down to Greece to do what they love – their version of a family holiday.
We hope you like it!
Similarities of your familiy's summer vacation and a 9 seater in Greece.

Remember every summer holiday back when you were 9 years old and your parents would pack the car and drive down 12 hours to the Italian Riviera? It's kind of the same feeling when you get back into the van each year for another edition of "Hellride to somewhere". Traditionally we'd catch up where we stopped the year before. Due to climate conditions we could not keep to our tradition and decided to change plans and headed to the opposite end of Europe: Greece.
Back to the summer holiday at the Italian Riveira in your family's Volkswagen. And as families don't change, the crew of this year's edition didn't change either.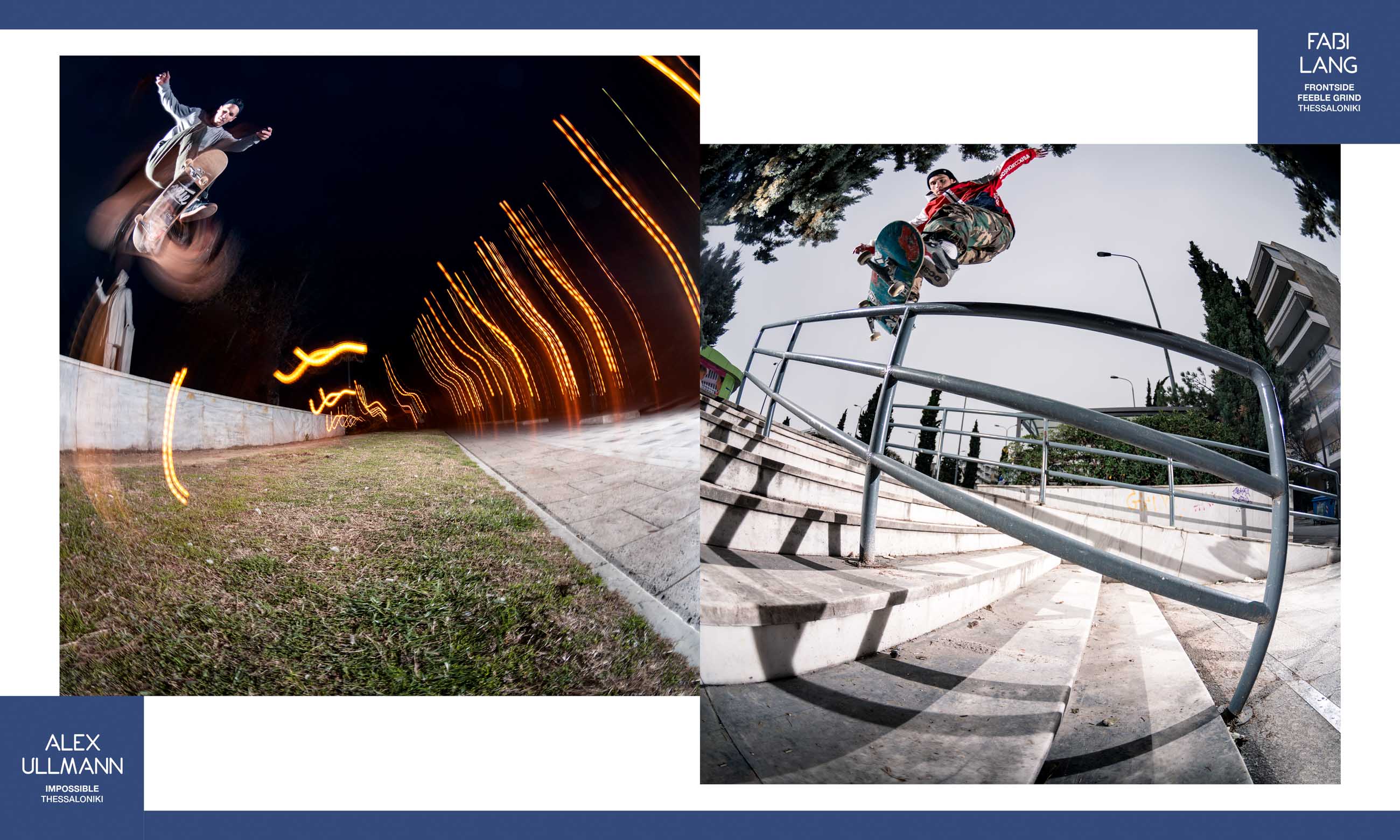 Family in this case means that Fabian Lang and Leo Preisinger would make sure that Alex Ullmann had not been left behind, Vladik Scholz falling asleep after 200 meters, Paul Zenner and Stephan Pöhlmann feeding the road with a lot of blabbering while myself would add up some more and Dominik Schneider keeping the back row secure. Bummer "TGH" did not make it out this year, but we're sure he'll be back on next year's edition.
Since your family's Volkswagen Passat wouldn't fit a whole bunch of skaters we got a decent 9 seater. Once we picked up our whip at Athens airport, we spent the first three days in the Greek capital, which is without a doubt one of the best places to skate in Europe. 2 hours en route towards Thessaloniki we were surprised by a snowstorm and almost didn't make it over the mountain range north of Patras.

At least we found another premium Airbnb with the vibe of spending winter somewhere in Hintertux/Austria. We almost forgot we were in Greece to skate and finally ended up in the most northern city of Greece – Thessaloniki.
Our final stop of the ride welcomed us without any snow, with temperatures below zero degrees Celsius however. Leo reminded us friendly that this wasn't vacation and everyone except Alex forced themselves to get some stuff done on our last few days. The temperature climbed up to 15 degrees on our last day in town, suddenly tricks happened, and this article got more and more realistic.
Wrapping up our trip at a vegan restaurant on our last night we were welcomed to witness a live performance by infamous DJ Source. Couldn't think of a better ending for another Hellride with the family.