Jura! Where are you at right now?
What's up, man? I'm just home now, in Madrid, waiting for a plan to go skate.
You are representing the beautiful Madrid but you've got a good connection to the East Coast. How did that come about?
Yes, I'm born and raised in Madrid. But you know how this skating thing is and how easy it is to meet new people. So I was skating at my local spot at that moment (Plaza de Colon), and I met this guy Marcus form New Jersey, he was studying in Madrid for like a year. We became good friends and when he went back to the USA he invited me to come. So I went to Philly, where he was living, and I loved it. He was starting his own project (A magazine called Skate Jawn), so I met more guys and I started going pretty much every year for a month. Then I met the Sabotage dudes etc. I still go a lot. It's kind of a second home for me.
Was that how you got involved with DGK and ended up in "THORO"?
It was in 2018 I think. I didn't have any board sponsor for a minute, and my good friend Brian Panebianco started working with DGK on the east coast. So he kinda offered me to start skating for DGK. I thought he was joking. But then I asked him and he said let's do it. So the THORO video was about to drop and I just went the following week. But it was hella cold and I normally stress when I go on a mission trip like that, so I only got like 3 clips or something.

So let's talk about DAMAGE. What inspired you to start the brand and when did that happen?
I think what really inspired me was just going to the States and seeing all the homies doing their own thing. I was going with my friend Felix and we were like, damn we have to start our own shit too! We didn't really know what, though. I had a Nike contract at that time and I was supposed to wear strictly Nike gear, so it originally started as a headwear company, which still was gear, but more lowkey, you know?
But now it's only you who runs DAMAGE?
Felix and I started it. I came up with the name etc.
He was doing like the website stuff and filming, then another homie started helping out. But things didn't really work out between us and it's just been me for some years now.
I never really took it seriously though. I was just making a few hats or items whenever I was feeling like it, till I realize people from different places liked the stuff. So about 2 years ago is when I really started taking it more seriously and getting deeper into it.
"I think what really inspired me was just going to the States and seeing all the homies doing their own thing."
So you also take care of graphic design?
It is just me now, I do every single thing. From designing everything, dealing with the manufacturers, talking to the shops, doing numbers, organizing the online orders from the webstore, etc…
I had no idea about graphic design. I enrolled in a course to learn the basics. To this day, I would say I'm not a good graphic designer, but somehow I get by. Sometimes I just draw shit and then digitalize it. Sometimes I want someone else to work on a t-shirt or something and I hit them up. But usually is just me.
Did you have any entrepreneurial experience before that?
Not at all. I was just making a few hats now and then. I didn't make any marketing plans or anything like that. I didn't see it as a real company. It's a long process.
I didn't start spending 'real money' on it till I realized people want to buy stuff not only in my country.
What's your experience with doing a small independent company?
It's kind of fun. But it can be stressful. Even the smallest company takes a lot of time and energy. If you want to make good stuff and take care of the details and keep a decent quality is just hard. And it's not something you get first try. There's a lot of work to do, even finding manufacturers, getting exactly what you want. Sometimes is a black hole, where you just put your money and you do not get it back because you have to make many samples till you are happy with the results, or change manufacturers etc. You just learn as you go.
But I'd say there's a constant growth, slowly. Because I have my own vision of how to do things. I can definitely tell that every collection I put out, I get better results and feedback.
Do you take care of all distribution or do you work with distributors in some regions?
Yes, I do. I tried to work with a distributor in Spain a few years ago, but in my case, It didn't really make sense. Because I don't want to be in a lot of shops, so at this moment, I can work as a distributor myself for my own country. I work with the shops that I want/like.
I recently talked to a distributor in Japan, and from now that distribution will be handling my stuff in Japan. So a distributor for me only makes sense outside my country.
"It is just me now, I do every single thing. From designing everything, dealing with the manufacturers, talking to the shops, doing numbers, organizing the online orders from the webstore, etc…"
In which countries is DAMAGE available?
Currently, I have retailers in Spain, USA, and Japan. When I started it, it was kind of easy to sell the stuff in Spain, because many shop owners are my friends. They wanted to support me, which I'm very thankful for.
The USA thing worked out later, because of the connections I have there and because of the trips I've been taking to Nyc, Philly etc…
Then one shop from Japan randomly hit me up about a year ago and I was really surprised. Now I will reach more shops in Japan because of the distributor, so I'm very stoked about that.
It's crazy how hard it is for a Spanish company to work with the rest of Europe. I think they automatically have this corny-whack image of us, you know what I mean? Like Spanish shit ain't cool enough. Because you have all these sick brands in the UK, France, and so on. But outside of Europe, they don't have that perspective of Spanish companies, you know? It's kind of hard to explain.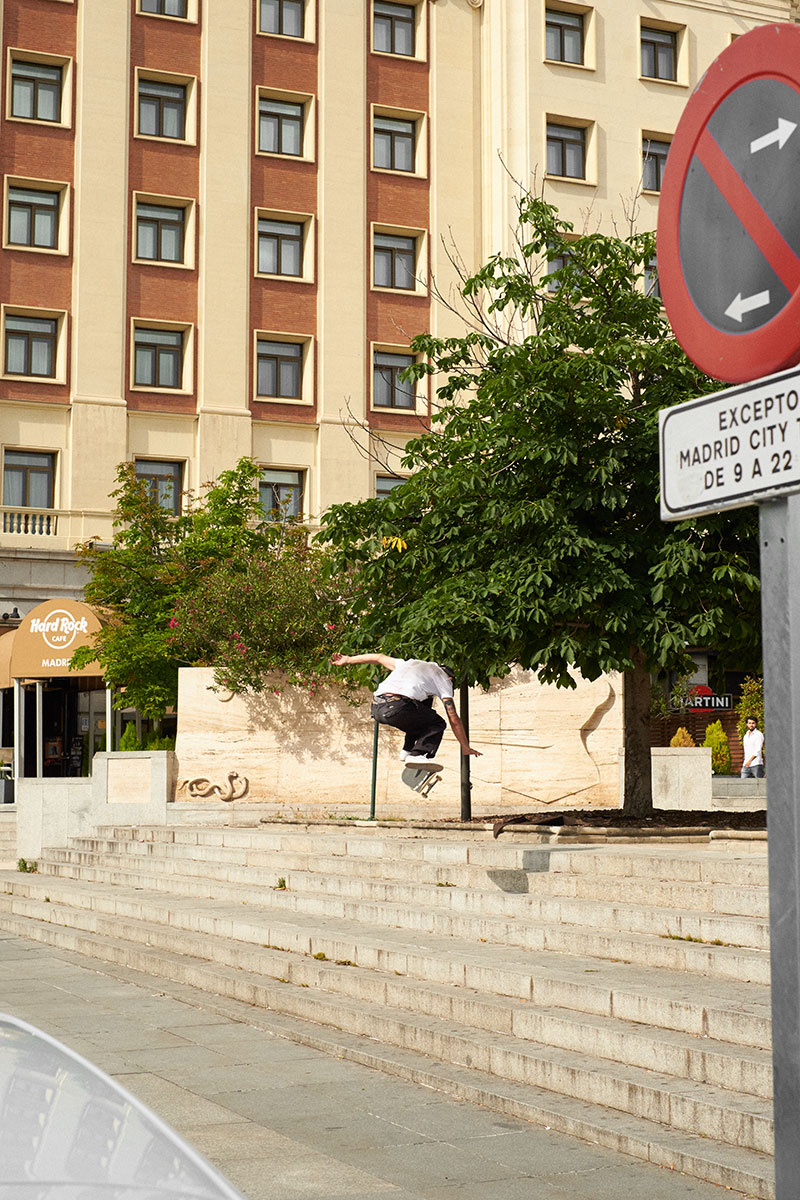 It's funny I feel the same about brands from Germany but I do not about brands from Spain.
At the same time, not too many rad Spanish brands come to my mind. What other Spanish brands deserve more shine?
Now that I think about it, I don't really know any german clothing companies. But I don't have that image of Germany at all. I know why they have that image of us though. Some of the biggest companies here are just corny, so that affects people from outside the country's perception of Spain. But I don't want to be cool for anybody, just want to do my shit.
I honestly don't like most companies, my friends from Barcelona "Free Wifi" are killing it, too. Being from Barcelona and linked with FTC definitely gives you some extra shine, because shit's poppin off there all the time. Shout out to Free Wifi and Raul Valencia. Also, "Laser" makes good shit and Villains too.
How would you describe the Damage style and where do you get your inspiration?
I don't know how I would describe it. I just like outdoor clothes, track pants, etc…
I try to make what I like, and not what I think what everyone likes. I'm not gonna make Snapback hats or tiny jogger pants if I don't like them you know? You have to pick.
I don't take my inspiration from something specific, just a mix of many things that are in my head. Sometimes I just design some fucked up shit that I really like, but I kind of worry to put it out because it might be controversial or people would get offended. I guess I will be putting them out eventually.
I imagine it being hard to find good suppliers if you want to make products that don't look like everyone else's. Is it hard finding suppliers? How do you do it?
I mean, you can always use blank clothing suppliers and buy jackets and hats and whatever and just print your logo. There are many options. But I prefer to make my own stuff, with my patterns. That's the only way to make your stuff different. Sometimes I see an item from a brand and then I see the same one from another brand. Unless it's t-shirts or hoodies because there's just so many good suppliers of tees and hoods and it'd be really hard to make a better quality one using your own patterns. I think only big companies will make their own t-shirt patterns.
It's quite hard because not too many suppliers will make the quantities you want to produce etc. Once you want to make custom clothes, the supplier will ask you for a big amount of pieces because you are asking for something they don't have in stock, you know?
It's just hard to find the supplier that adjusts to your minimums and necessities. Just years of research and mistakes, haha.
What are the challenges if it comes to money and running a small independent brand?
There are a lot of challenges. The hardest one is to get a good price for the public because if you don't make big quantities, the prices per item will obviously be more expensive. Also getting good quality stuff is very very expensive.
There are also many small details that you don't think about, even making small tags, stickers, bags to pack the product, having your online shop working well, etc. All those things end up being a lot of money at the end of the day. There's always something to do.
Sometimes chasing the shops to get your money can be a challenge too, because they are your friends, and you give them a better margin you know?
Yes, been there, done that, haha! Can Damage contribute to your income at the moment?
Everything I earn with it, I just reinvest it. It's extremely hard to make good money. So the money I earn I use it to keep progressing and growing the company.
Do you have a skate team?
There is not an official team. It used to be though, but I don't really want to call it team. I just send stuff to the people that I want and that are down to represent Damage.
Some names would be Raul Navarro, Ben Skrzypek, Brian Panebianco, Dylan Sourbeer, Juan Virues, Kris Brown…
Did running your own brand change the perspective you have on being sponsored? When we started doing merch and giving it to friends I quickly realized you are basically handing them Euro-bills and you can just hope they will wear it.
Yeah definitely. You have to be careful about how much stuff you give because it's straight-up giving money that comes from your pocket. There's a point when you realize, you have to give it to the right people, and the right quantity. If you give more than you should, it's just a lot of money you are giving away. So I just send stuff to the ones that really like it and that they will wear it and feel identified with it.

"Everything I earn with it, I just reinvest it. It's extremely hard to make good money. So the money I earn I use it to keep progressing and growing the company."
Doing collabos is pretty much the thing right now. With who did you work on collabos and are there any plans for new collabos?
We are in the collab era for sure!
I did a few collabs this past year, mostly with friends or local things, my friends at Quality Sportswear in Madrid, FTC Barcelona, for example. There's something else on the way, though!
I will do something with NJ skate shop in New Jersey soon.
Sounds good! If you could pick one company to collaborate, it doesn't need to be skate related, which company would it be?
I don't know, I think I would do something really dumb with Dunkin Donuts or some random shit. I would also collab with Wahl, drop a real nice hair Trimmer. Also FTP comes to mind.
Do you always carry stock or is it rather a drop-like-system you get new stuff on the streets?
I work with preorders. So I make samples of
everything, take photos to make a catalog and a price sheet. Then I send it to the shops I work with, wait a few weeks and produce the stuff based on the orders I get, plus some extra units for the webstore, promo and stuff like that.
Where do you see DAMAGE in 10 years?
I see it more stable and consolidated. Hopefully making a life out of it. I just want to keep doing my thing, learning on the process. I would love to see Damage generating enough money to give some jobs and to take my homies on trips and all that. Let's see where time takes us.
When you look back, is there anything you would like to change?
Nothing really. I didn't make any big moves or anything. I wouldn't change anything I think.
As people might want to check out your collection now, when is the next collection dropping and how can people get it?
By the time you read this, the stuff will already be out. You can find Damage goodies at:
-Welcome Skateshop Madrid
-Sk8land Madrid
-FTC Barcelona
-SkateshopSS
-Kingdom Mallorca
-AJ Project
-Nocturnal Philly
-NJ Skateshop
-Blacklist Lawrenceburg
-Humidity NOLA
As mentioned, Shelter Dist will be taking care of it in Japan.
Also the webstore www.damagelimited.eu/shop
Anything left you would like to add?
Thanks for giving me this interview, and thanks to all the shops and people who contribute with me in any way.