MODERN ANTIQUITIES
PRIMITIVE'S EUR-ASIAN EXPERIENCE

CARLOS RIBEIRO: FAKIE FLIP

Nestled on the side of a shopping mall buried deep in the 6341square kilometers that make up Shanghai is a perfect granite run up and granite landing four flat three double set. Looks can be deceiving and flawless becomes flawed when you discover that a good percentage of Shanghai's 24 million inhabitants visit the mall using the double set to get from the bus stop to the entrance. Between the mobs of people who sandwiched him against a wall, Carlos Ribeiro squeezed in a tweaked out Fakie Flip before the dark skies bursted out with torrential rain.
ROBERT NEAL: SWITCH OLLIE
If Shanghai is one of the most modern cities in the world, Athens, Greece has to sit at the opposite end of the spectrum as one of the most ancient. Robert Neal was fascinated by all the ancient buildings in Greece and made it a point to go inside all the churches to check out their archaic interiors. On the way out of one church, Robert found a Hubba to vault and left with one extra tourist photo for his collection.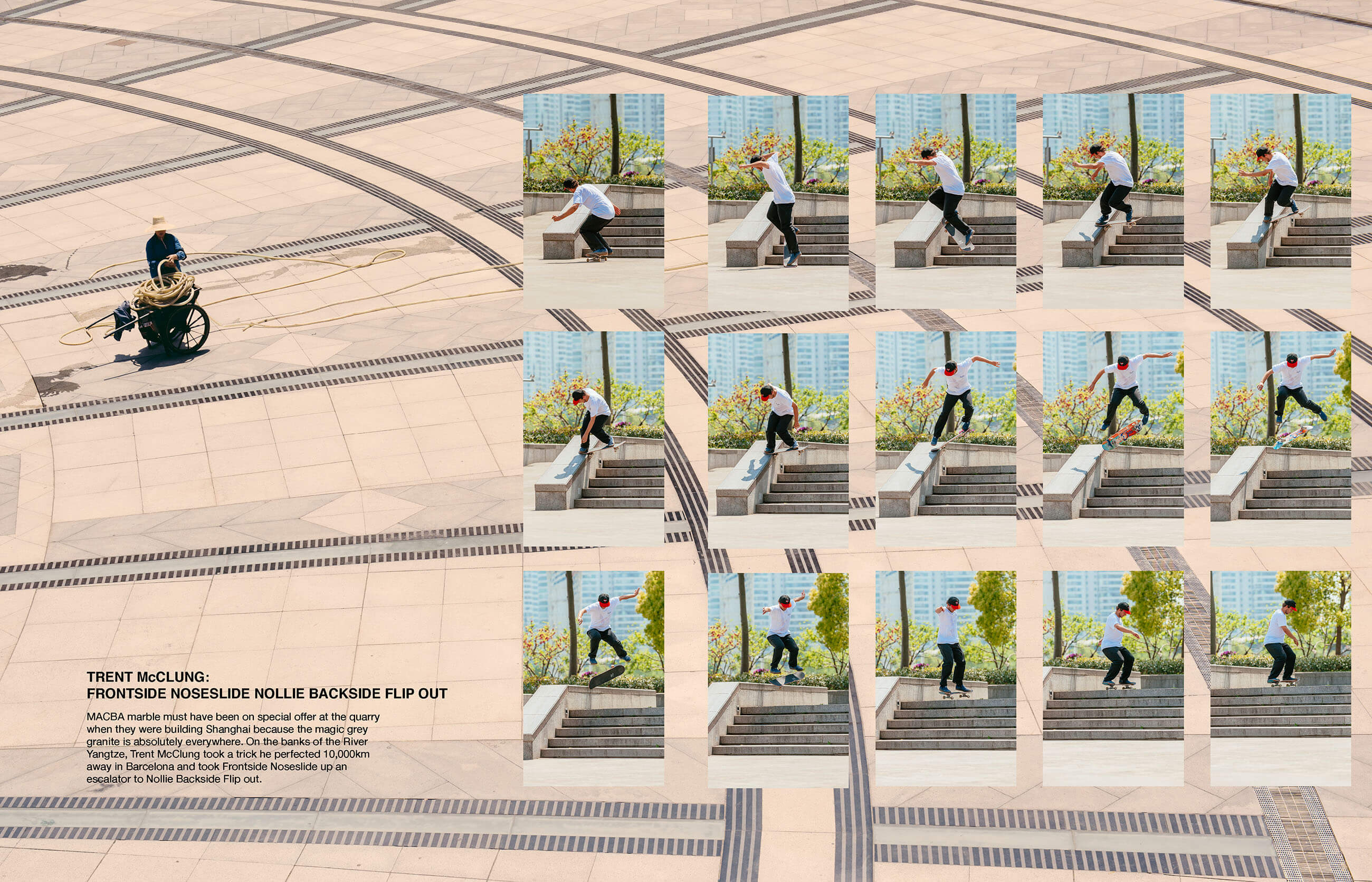 TRENT McCLUNG: FRONTSIDE NOSESLIDE NOLLIE BACKSIDE FLIP OUT
MACBA marble must have been on special offer at the quarry when they were building Shanghai because the magic grey granite is absolutely everywhere. On the banks of the River Yangtze, Trent McClung took a trick he perfected 10,000km away in Barcelona and took Frontside Noseslide up an escalator to Nollie Backside Flip out.
WADE DESARMO: SWITCH BACKSIDE FLIP
Athens is not only peppered with skate spots that were built thousands of years ago, it also has new spots popping up all over the city. On the outskirts of town, the builders reconstructing the grounds around a church took a leaf from the city planners of Barcelona and constructed a perfectly skateable plaza with ledges, mannys and gaps. Wade Desarmo took full advantage of the plaza layout and switch backside flipped one of the gaps at the end of a multi trick line.