FEATURING: Patrick Zentgraf, Kai Hillebrand, Daniel Ledermann, Jost Arens, Reece Knobloch, Helen Storz, Rosa Altmann, Tim Janke, Sascha Scharf, Leon Charo-tite, Benny Vogel & Eric Ehrhardt.
FILMED & EDITED: TORSTEN FRANK
TEXT & PHOTOS: DENNIS SCHOLZ
ARTWORK: ROSA ALTMANN
EXCLUSIVE IMAGE:
ERIC EHRHARDT – SWITCH FRONTSIDE POP SHOVE-IT
In 2020 skateboarders needed to adapt their fond of traveling to the circumstances at hand. Inspired by our friend Lucas Puig, who managed to film a whole part in the thinly spot-populated Biarritz, we decided to avoid planes and visit friends all over Germany instead. Welcome to a domestic exploration – Puig Voyage.


BENNY VOGEL: WALLIE
Although Benny is Hamburg's finest, he decided to only skate spots that look like they were in the Big Apple. Hammerbrooklyn is what you make it – grosse pomme!


DANIEL LEDERMANN: 360 FLIP
Dani told me, how hyped he is having discovered Taekwondo pants. They fit super wide and won't rip. Suddenly everything makes sense, since jumping down stuff like this triple set must feel like fighting Jackie Chan. With the security guard coming behind him already, Dani landed this 360 Flip second try, so the pants stay clean – savage!


KAIO HILLEBRAND: BS FLIP
This photo Reminds me of an Arrow & Beast shirt saying: "Black Grip. White Wheels. Raw Trucks. Basics Forever.". Can we please add "Kaio's Flick" to the list and re-release the shirt? – Finesse!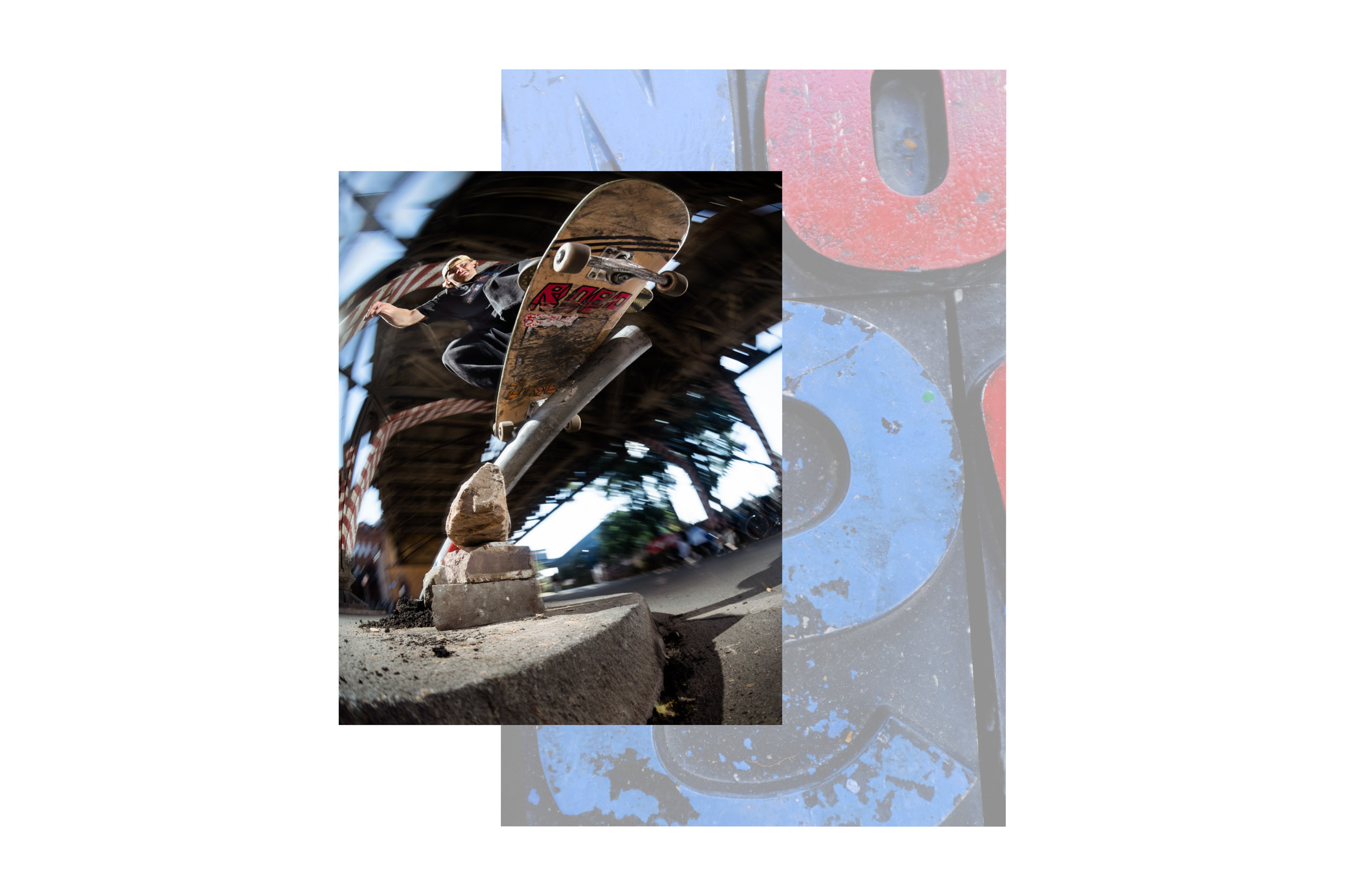 TIM JANKE: BACKSMITH
There are rumors that Tim's Backsmith is one of the best in Germany. The fact that he's grinding up that pole might convince some people. Wait, is this Williamsburg bridge or Gleisdreieck? – Créativité!


PATRICK ZENTGRAF: OVERCROOKS
Paddy is the nicest guy out there. Although he regularly skates the creme de la creme of LA ledges, he still has loads of fun grinding wobbly metal edges on the roughest German banks – brut!


SASCHA SCHARF: WALLRIDE NOLLIE
As some people in Berlin only make it to Kulturforum or Bänke, Sascha is the guy you'll find strolling around Kreuzberg's backyards searching for the undiscovered. No crusty wall is safe – exorbitant!


LEON CHARO-TITE: OLLIE UP TO WALLIE
Irish dancer James Devine is a World Record Holder for the "fastest feet in the world", with an astonishing 38 taps per second. Just behind is Berlin's Leon Charo-Tite, as this ollie up, wallride nollie down proves – précision!