Berlin's Tim Janke visited New York, Paris, Vienna, Lisbon, Valencia and Barcelona to collect 'Souvenirs' in form of Standard Definition clips that combined make up his new VX part. Tim has a big bag of unique tricks which always comes in handy when you want to keep a part interesting for five minutes. And this one definitely is. So make sure to watch it all the way. Enjoy.
Filmed & Edited by Frederick Schneider
Additional Filming: Jon Wolf, Alex Neuhauser, Roberto Marcelli, Maciek Sawejda, Julez Meier, Robert Born, Hugo Ghnassia, Michael Weiskopf, Pascal Kurth, Camille Benard, William Crooner, Felix Schubert & Mike Mag
Photography by Dennis Scholz & Klavs Laivenieks
Interview by Johannes Schön
Hi Tim, how are you and where are you at?
I'm fine, I'm in cologne at the moment, we had a Robotron team meeting here on the weekend and now I stay here a couple more days to skate with the homies and film for my next project.
Are you studying at the moment?
I just finished my studies in visual communications.
Congrats! Was it fun/ what you expected it to be?
Yes was pretty cool to learn stuff about design and see the different opportunities of working in the creative industry.
So as a visual artist, what skateboard brands are killing it from your point of view?
Im a big fan of the sour stuff, but also Alltimers, Passport, Poler, WKND, Quasi, Yardsale, Krooked and many more are killing it. And of course Robotron, nothing comes close to that, haha.
This part has been in the making for a while. I remember talking to you about it what feels like years ago. How did this all come together?
Haha, yes the first clips are a few years old. I didn't film for this part all the time, just always when there was a VX filmer around I tried to get some clips. Sometimes I didn't film months for it because there was no one with a VX and mk1 around.
Oh yes, they become rare these days. How many tapes did you guys use?
No idea! With Freddy maybe only 6 or 7 or something, but with other filmers a lot too, all in all maybe 25 or something.
Did you hit an MK1?
I also can't remember that I ever hit one. Luckily!
I think Freddy even mentioned to me that this would be the last VX project for now. What's your stance on VX vs. HD, with the possibility of filming HD 4:3 taken into account?
Yes too many struggles with that VX shit, haha. Sure the footy looks sick but a whole part I don't wanna film again with that. All these hours of capturing and everything. The next project is 4:3 HD I'm pretty hyped about all the parts that came out in the last months that are filmed like that.
You named the part "Souvenir". Where did you travel to while filming for it?
A lot of places actually. Been to New York, Paris, Strasburg, Vienna, Lisbon, Valencia, Barcelona and some places in Germany. But I didn't necessarily just traveled to film for that part. It was more like when I went somewhere for a contest or to visit some friends, on Holidays or something I tried to also film something on spots that I was hyped about.
Besides clips, did you bring home actual Souvenirs as well?
Something some wine or little presents for my family and friends. And sometimes I bought Vintage clothes if I found something sick in Second-Hand Shops.
What's been your favorite destination filming for this part?
That's hard to tell, but probably New York.
Whats' been the most surprising destination?
Lisbon had surprisingly many sick spots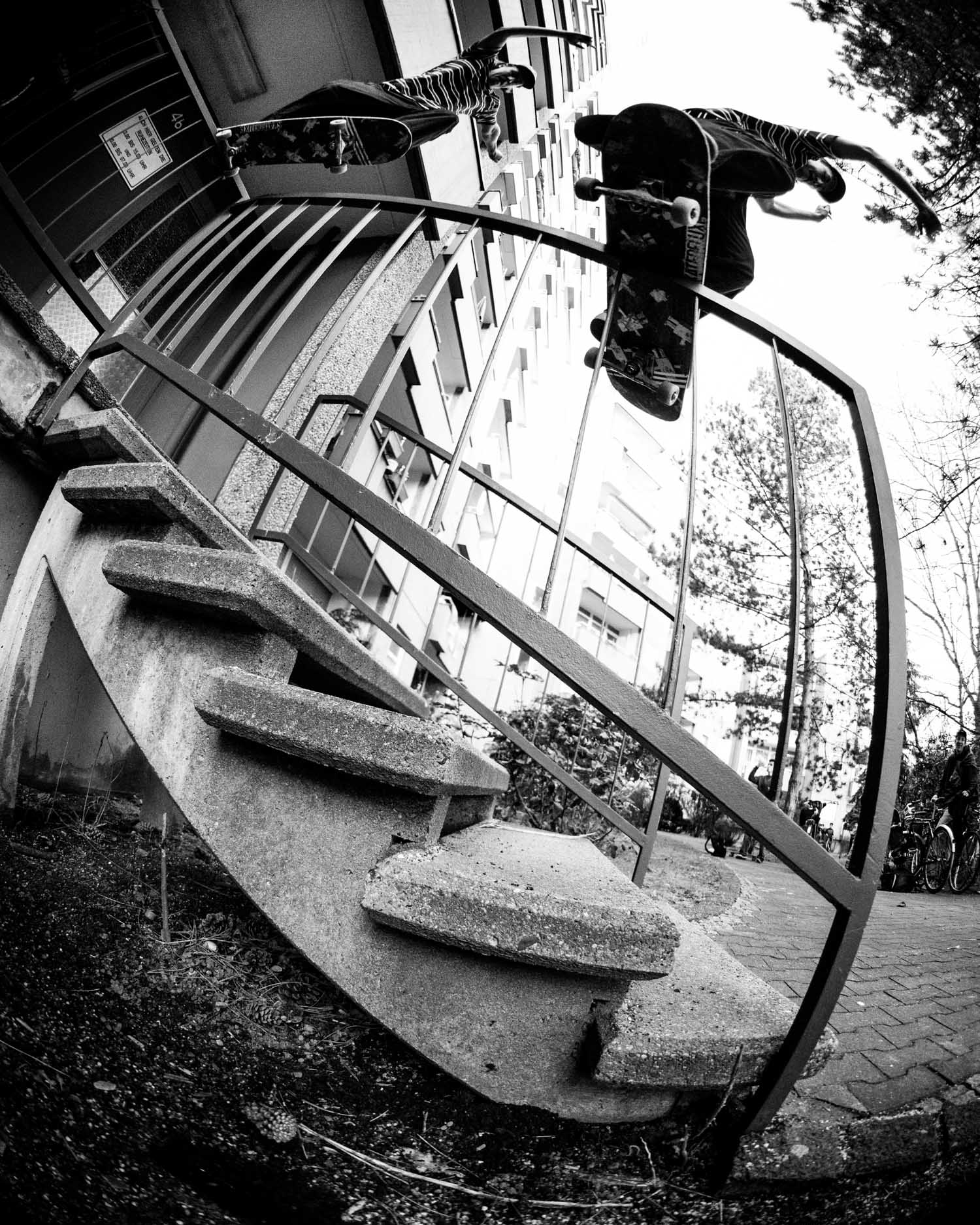 You pretty much filmed this one throughout the ongoing pandemic. Any hiccups with traveling during these times?
Yes was a bit annoying to test and check the restrictions of the country before flying but besides that, it actually helped me, because all my classes for university were online, so I could also do them when I was staying in Valencia or Barcelona it homies place.
That comes in handy when you want to hit the road during the semester! Which clip took the longest and which clip worked out really quick?
I didn't take crazy long for any of the clips just for the Bennet Grind on the aquarium outledge I had to go 3 times because the first time the camera didn't work, then I didn't like the angle. That Backside Tail Frontside Bigspin in Lisbon was pretty quick I took maybe 10 tries or something, because I also tried a trick with Backtail at the same spot a few days before, so I was pretty used to the Backtail there already.
If you had to pick one spot from the part for the rest of your life, which one would it be?
Muvim (in Valencia) probably.
You have a pretty unique bag of tricks and keep surprising us again and again. Who inspires you to come up with these?
A lot of people. Mark Suciu, Gustav Tonneson, Michael Pulizzi, Deez, Karsten Kleppan, Trent McClung to only mention some.
That's a proper selection. How did you pick the music?
Just checked together with Freddy what would fit my skating and the footy.
What's coming up next?
My next part is halfway finished, so to finish that is of course one thing I'm working on.
Besides skating I'll need to find a job, not 40 hours a week but something. I want work that I can do from everywhere but let's see. And also I wanna do more with my drawing/ art stuff, because I draw some stuff almost every day in the last few years. I would like to do more graphics for brands and a little exhibition some day would be pretty cool.
Some brands might read this, so show us three of your drawings:
Any last words or S/O?
Big thanks to everyone that helped me make this project happen, everybody that filmed me or offered me a place to sleep. Also to all my Friends, Family and my sponsors (Skatedeluxe, Adidas and Robotron), for always supporting me and making my travels possible. Biggest thanks of all of course to my man Freddy for making this part with me.
Lovely, can't wait for the next one!